Smashing Pumpkins
Zeitgeist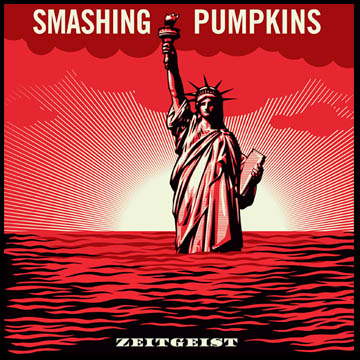 ---
Doomsday Clock – A few months back when the track listing was released I got excited to hear the song Doomsday Clock. I had it in my head that it would be an awesome opener like the song Where Boys Fear To Tread was on the second disc of Mellon Collie. Most of my theory was true; it is a nice hard rocking song. If I could have changed one thing about this song would to turn the tempo up just a little bit more. This song proves that the Smashing Pumpkins only need Billy Corgan and Jimmy Chamberlin to make good rock song and as your about to find out, a good rocking album.

7 Shades Of Black – The opening drum beat reminded me of the beginning of Cherub Rock, but then it takes flight to its own level. It has the happy upbeat feel to it. The chorus has a good rhythm to it and I like how it pauses at a few parts of the song just to speed up and rock again.

Bleeding The Orchid – After rocking out on the first two tracks, Bleeding The Orchid brings the tempo down a little to a nice mellow song but not to slow to where it makes you tired. It feels like a song that should be on Siamese Dream & Mellon Collie.

That's The Way (My Love Is) – another good up tempo song that feels like a happy pop song.

Tarantula – The First single of the album. Jimmy pounding away on the drums really gives this song life. This song has all the sounds that made the Pumpkins a hit. From the loud intro, to the memorable chores, the muted guitar , the kick ass solo's, bring the song into a slow dreamy rhythm to calm the mood just to bring it into high gear one more time to rock you out.

Starz – When I first saw the song title Starz I prayed it didn't sound anything like the horrible Billy Corgan solo album track Strayz. I don't know what is up with him using "Z" in place of "S" but when you hear the song that doesn't even matter anymore. This song has a good beat to it that can get stuck in your head after you heard it. I think Corgan may have dubbed his voice a little too much during the "We are starz" line but once you hear the song for the second or third time you really don't notice it too much.

United States – Every Pumpkin album has at least one long track, and this one is it. Song starts out with a drum solo by Jimmy, just to have Corgan jump in with his loud distorted guitar. The song's lyrics are not that great for this song, but with a song that's this heavy and rocking, lyrics really don't matter. About half way though they slow it down again a little which reminds me of the middle of the classic hit Silverfuck with the funky guitar sounds. The final few minutes of the song are the ones that really come at you with everything they got.

Neverlost – Every album has to have that one weak song that you wished they just kept off the album and this song is the one. I kept hoping this song would break into something better but it didn't. To me it sounds like a song that was left off the Zwan album. This is the one song I will be skipping while listening to the album.

Bring The Light – One thing about this song is that repeating lyrics "Bring the Light," 29 times actually. It can be kind of annoying at first but after I heard it a few times I really got into it. The song does sound like something that could have been on Corgan's solo album The Future Embrace but instead with using distorted guitar, a great drumming track and a nice solo.

(Come On) Let's Go – First time I heard this song, a few of the guitar riffs reminded me of an old 80's Police song. In fact the whole song feels like an 80's rock song but not in a bad way. Sounds like a song that would be good for the video game Guitar Hero.

For God And Country – I heard this song played live at their first reunion concert and Corgan played it solo on an acoustic guitar so I thought that the album version would sound somewhat like a Disarm, Thirty-Three mix, but now that the song is out my expectations were wrong. It uses electric guitars, a nice drum beat and other unique sounds that the Pumpkins are known for using. My only complaint about this song is that the bass is a little too high.

Pomp And Circumstances – On Corgan's past few albums the final track is usually really boring and makes you hit the stop button upon the song starting (Come With Me, Strayz). The song is still weak but not to the point where you want to turn off the album yet. It does use drums, and some small guitar solos. The "La la la la" lines make this song stick in my head after I hear it. I was hoping for a loud rocking song as a closer, something like X.Y.U or even Zero that leaves you wanting more, but Corgan seems to believe to end an album on a slow soft beat. At least the album opened with a hard rocker.
---
I don't believe in rating systems anymore so I will not rate this album but I will say it fits right in with the rest of the Smashing Pumpkins catalog. It takes the band back to the kind of sound that put them on the map with their first few albums, Gish, Siamese Dream and Mellon Collie and stays clear of tuned down funky distorted sounds as heard on Machina: The Machines of God. The album has a lot of good songs and as usual the one or two songs like Neverlost that should have been released as a B-Side.